The experience of coffee
11:03 1 de April de 2022 By Daniel Oiticica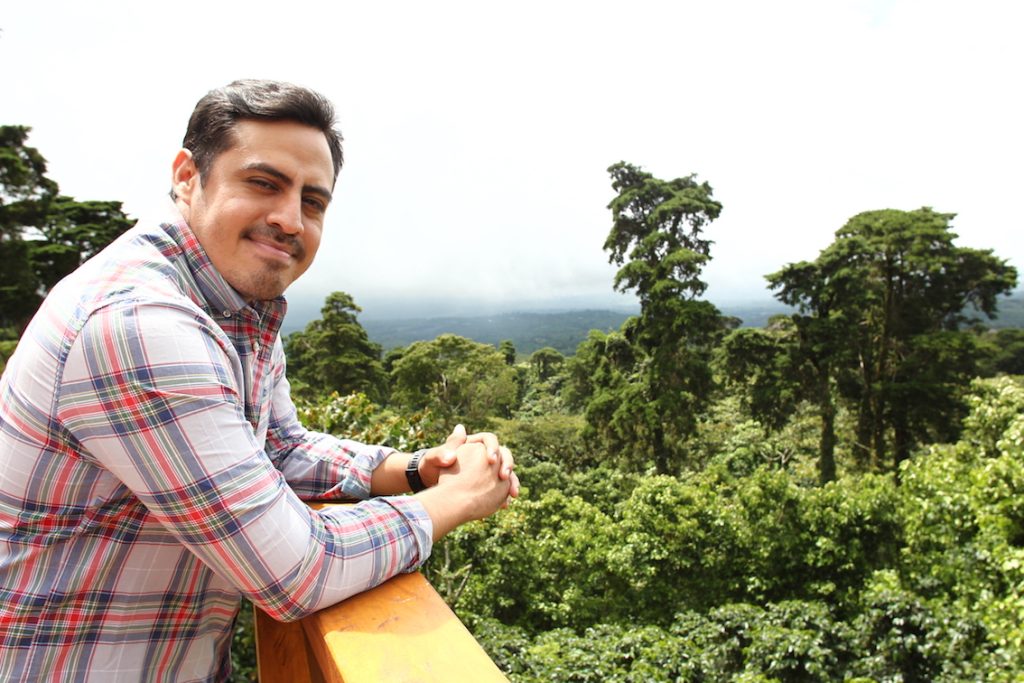 Seven years ago, business started working with coffee and today they offer a unique experience in El Salvador: a farm that at the same time produces this noble bean in the country and hosts visitors in a hotel in the middle of the forest, surrounded by bushes full of coffee beans. In this interview Alejandro Velazquez, Commercial Manager of Finca Entre Café Experiences, reveals how he came up with the idea of offering this unique experience for investors and buyers.
How did the idea of exploiting the coffee experience at your farm come up?
We are dedicated to serving the client, it is not just a purchase operation. It also generates a relationship. Many clients would come to our farm and stayed with us, we would take care of them, offer them food. We started to see a niche to exploit. My sister Sandra, who also works in different areas of the company, began to investigate government programs and found out about "Reconverting the Territory", a contest organized by the Ministry of Economy. We had to put together a business model. I was able to develop all my knowledge, what I had learned. We made the presentation to a jury; we had very good reviews and we won a prize of 50 thousand dollars. Then, we discover another program, called "Pyme segura", which awarded us another 20 thousand dollars. All this help gave us the impetus to undertake. Most interestingly, Ministry of Economy not only offered the funds, but they also provided advice and technical assistance. We decided to make a complementary investment, with three times more resources. The government's help was the boost we needed. This project was something we were looking at finalizing in 5 to 10 years, and we were able to do it in less than one. We are an example of the good results of the government's management in this area.
What structure do you offer today?
Currently, we have three main services: one is hiking or trekking, which brings us closer to nature, the fauna, the fruits and the variety of coffee. In this tour, we talk about the history and culture of coffee in El Salvador, as a fundamental basis of our economy. The other service is accommodation. We have a cabin with three rooms, with a capacity of 8 to 10 people. Then we have two cabins that have a capacity for 6 to 7 people and another one for 4 or 5 people. We also have an area that is for those who like to be closer to nature, but with the comforts of any room or hotel, which is the Glamping (Glamour + Camping). We have built wooden platforms to keep them away from the ground and also some roofs with awnings for rain and wind. Inside the glamping we have very comfortable beds. And the third service is the cafeteria, which serves the best product produced by us.
How are you growing in the coffee industry?
The biggest challenge for the coffee industry is to find the right path to the consumer market. The strategy must be based on quality and not on quantity. In this way we can obtain a higher margin, even if it is with less quantity, to make a difference. El Salvador offers this opportunity. It is a great challenge because it involves advice to small producers, research, and development. Like every producer, we started with the basics, which was to deliver the coffee to other players who processed it and sold it. But little by little we realized that we had to continue integrating the value chain. We turn from producers to exporters. Later, we became processors, and little by little we have made progress. Now we hope to complement this with the roasting activity and get a little more into the local market. And, to bring our pride to foreign countries, that is to say, to start distributing overseas. Every dollar we earn does not stay in our pockets but is invested in the future.
What will foreign investors find in El Salvador?
El Salvador is one of the smallest countries in the world, but locals should not be measured from head to toe, but from heart to infinity. There are many opportunities in the country. We decided to invest here, in a complex area due to alien risks caused by climate for example, but we went for it regardless. And it is very nice to know that we have developed economic opportunities for others. For instance, a lady set up a small store nearby. She had practically no income and now she sells at least $15 a day to support her family. The other day I was walking through the coffee plantations, and I asked a picker how long he had been working in coffee. He answered that from the very beginning. With this project, we created more than 10 direct jobs and 100 indirect jobs. And there are many people who had decided to leave the country and now plan to do stuff here.