2 billion dollars in infrastructure
12:03 5 de January de 2022 By Daniel Oiticica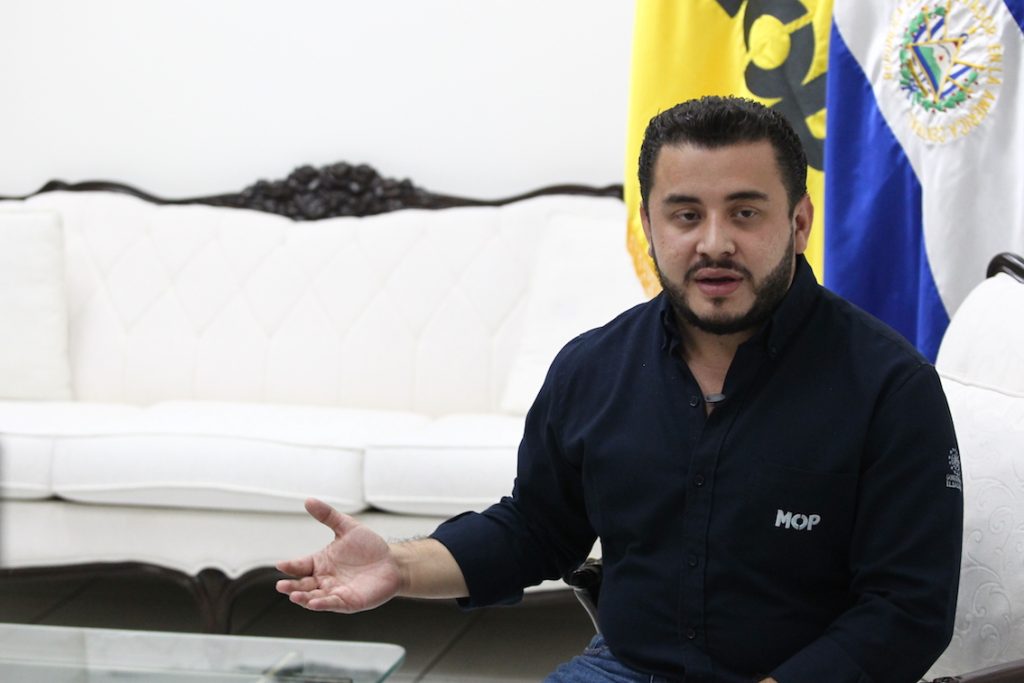 A mega plan for road infraestructure constructions is already underway at El Salvador. The absolute priority of the country is to improve land connectivity to reduce mobility times for people and goods, streamlining the daily life of companies. All the details of this plan, in this interview with Minister Romeo Rodríguez.
Which are the main road works currently in place in El Salvador?
We have already completed the construction of a new 6.5-kilometer 4-lane highway, which includes the longest, more curved, and most complex engineering viaduct or bridge in the history of El Salvador. This work has reduced travel times to reach the beach area of La Libertad. It used to take between 1 hour and 1:30h now you can get there in not more than 25 minutes. According to data from different economic sectors, this work helped increase the income of the tourism sector by 80%. We are also building other infrastructure works that will benefit trade and boost the economy, such as the Gerardo Barrios beltway. Reaching 160 million dollars, it became the largest investment in history for the eastern area. A new highway that will reduce traffic in the city of San Miguel. Currently, to get to La Unión or go to Honduras, you can use the 34-kilometer belt way and avoid going through the city of San Miguel. We are also building other important works, such as the Claudia Lars beltway, a new highway to reduce traffic and improve trade, and making life better for hundreds of thousands of citizens, mainly from the West. This area concentrates 86% of textile exports. In addition, all the logistical cargo that comes from the Port of Acajutla had to enter through the city of Lourdes and now it will be able to head directly along the 10-kilometer highway, thus saving 50% in travel time. This beltway will connect to a new highway, the largest road infrastructure work ever built. We are about to finalize the engineering design, to later open a public tender. We will allocate 245 million dollars investment to expand 15 kilometers of highway, some sections with four lanes and others with 5. It also includes the longest and most complex bridge in history, with more than 1 kilometer of viaducts. About 40% of the goods of our country are transported using this highway and its improvement will have a significant impact on local economy. Another important project is the construction of a bridge in La Hachadura, the longest bridge that has been built in the country, with 246 meters in length, which will connect El Salvador with Guatemala. The idea of ​​this project is to connect it to a 1.4-kilometer, four-lane highway that we are also going to build to reduce time goods need to be cleared in customs. This series of works will be developed in conjunction with the Ministry of Economy and Finance to modernize our customs. One is in Anguiatu, in the border with Guatemala and built with state-of-the-art tecnology. Similarly, in El Amatillo, which is the border with Honduras, where we are building a new border area with cutting-edge technology. This will help to reduce logistics times and costs in a large proportion. We are working on other projects to be able to stimulate our economy and improve the access of different local communities, as for example the road to Guatemala, made of dirt, but where we are working on the construction of drains, gutters and paving of about 12 kilometers to give a new commercial route between the country and Guatemala. There are also a dozen rural roads that are being renewed along the country, roads that used to be dirt roads and that are now being paved through different infrastructure projects. Work is also being done on public transport modernization projects, with a feasibility study for a modern system that can guarantee greater agility for all users.
How much do you plan to invest in infrastructure works led by the MOP (Minister of Public Works)?
We have forecasted an investment of about 2 billion dollars in infrastructure, projects whose designs are about to be completed, and then open to public bidding. There are some works being executed at the moment, others about to be opened for tender, to hire companies. One of them is the public tender for the construction of the Los Chorros highway, the largest road infrastructure work that has been done in the history of El Salvador, with total investment of 245 million dollars. It will significantly impact the economy, by reducing transportation times and logistics costs, as well as improving the tourism sector, especially as regards the development of the Surf City project.
How is Surf City relevant for the country?
By the end of 2022 we need to have most of these works completed, which will benefit the Surf City project. We have already finished the project called Camino a Surf City that leads touristic spot, benefits our economy and improves trade and quality of life of all citizens. El Salvador was not known as a touristic destination. Quite the opposite, it was known by high homicide rates. Thanks to the efforts of this Government, this negative point has been drastically reduced. The quality of our waves is a privilege that needs to be taken advantage of. Different Surf World Cups have already been hosted, coordinated by the Ministry of Tourism and we support them by committing to develop infrastructure, working in an articulated way between institutions. There are a series of works such as the Puerto de la Libertad amusement park that we expect to finalize in the first quarter of 2022. In addition, there are other projects in the design stage, such as the expansion of the Malecón of the Puerto de la Libertad and a tourist development in the Mizata sector, which we are carrying out in coordination with the Ministry of Tourism. We also have a new project to build a road from El Obispo beach to El Zonte beach, about 21 kilometers of road that will include a bicycle lane to improve connectivity, reduce traffic and provide a best access route for pedestrians who want to enjoy the beaches of La Libertad. We are also going to improve Ciudad Puerto, as part of the entire tourism project to help the economy become much more dynamic.
Which are the opportunities related to these projects for private investors?
Every company, national or international, can participate under equal conditions in the public investment projects of the Government of El Salvador, both from the Ministry of Public Works, as well as from other State bodies. When we launch a project, we invite all companies to download the tender rules from our platform compraal.gob.sv. In this platform, investors can access the list of undergoing public investment projects, download bidding rules and terms of reference and participate.