Many experiences in El Salvador
12:31 18 de November de 2021 By Daniel Oiticica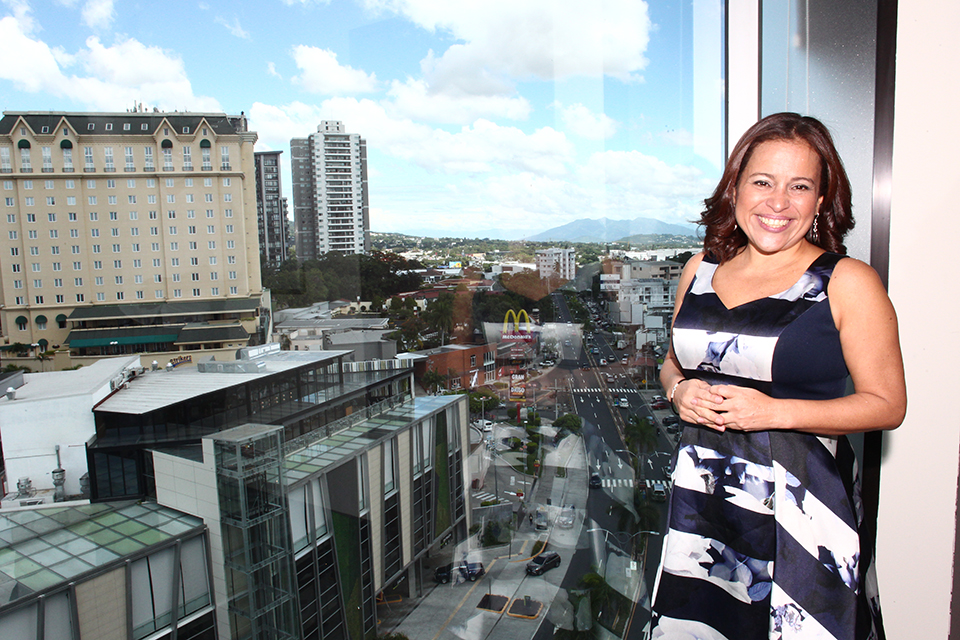 Many experiences in a short period of time. Everything that El Salvador offers to investors can be enjoyed soon. Its wide range of tourist options and agile procedures facilitates the accomplishment of investments. In this interview, Morena Valdez explains why investing in El Salvador becomes a unique experience.
Morena Valdez, Minister of Tourism
After such a long pandemic period, how has El Salvador been recovering from this global tourism crisis?
Thanks to the good management of the pandemic, we are the country that has recovered the most in terms of travel, followed by Belize. According to the latest statistics, it has recovered by 26%. We are having 66% arrivals of our Salvadorans living abroad, mainly from the United States, because it is nearby and because El Salvador has managed to position itself. I always say that tourism is the gateway for any investor, and President Nayib Bukele has changed not only the image of the country, but also its reputation creating a country brand. Previously, the country was unknown, people even got confused with Salvador de Bahía. When we asked someone from Asia or Europe about a destination in Central America, they would mention countries like Mexico, Colombia, Dominican Republic. Covid-19 has come to teach us that we must reinvent ourselves and that there can be no tourism if there is no health, safety, sustainable environment, technological innovation, and education for a human resource that is ready to receive tourists.
What are the main projects that you are developing from the tourism sector in the country?
The anchor strategy goes around Surf City. Every country has positioned itself with a tourist product, as it is the case with Peru and Machu Pichu, Brazil and Carnivals, Argentina with its music, Colombia and its culture, Mexico and its food … Each one looked for a distinguished value. In Central America we are all very much alike, we all have green areas to discover, a rich coastal area with sun and beaches, we all have archaeological sites, with the history of our civilizations, such as the Mayan. But El Salvador has a unique feature in the region, and I would say in the world, due to its geographical condition. It has permanent waves 365 days a year, straight waves as professional surfers call them. In addition, beach break and also point break, which are different types of waves. And, as the President says, if we are good at something, we need to emphasize on it. One of the key elements of Surf City is public infrastructure, because we cannot have tourism if there is no adequate first level public infrastructure. If the investor knows that we have a good supply of drinking water, good wastewater treatment stations, a good distribution of electrical energy, good internet with national coverage, human resources specialized in all the different areas that make up the sector value chain tourism and, above all, if you know that we have clear rules and an agile management, you are going to come to invest in El Salvador because you know that your investment will have a quick return.
How is Surf City developing?
Surf City has five phases, in the 300 kilometers of the coastal-marine area. It means first-rate public infrastructure in all phases, regardless of how we are doing it. We are now focusing on Surf City 1 located in an area called La Libertad, already with tourism development. Then we go east, where we are already starting work. And then we move to the next phases, connecting with other tourist destinations. This is another of the great advantages that the country has: short distances. You can be with me here in the city, go to have lunch in the Historic Center of our capital and then go down to La Libertad to have dinner and watch the sunset, all in an hour, and even go up to a volcano!
You had the opportunity to host the Surf World Cup in the waters of El Tunco…
It is important to note that El Salvador had been vetoed by the International Surf Association (ISA) to host surf tournaments due to lack of security. El Salvador was associated with insecurity and little logistical infrastructure. In November and December 2019, we hosted a international tournament, and they were impressed with the logistics and government's efforts. The involvement of all government institutions is key to a good destination and a good organization: working together and partner with the private sector, because if there is not a good public-private alliance success will be hard to achieve. The success of the tournament was the key for them to choose us as the venue for the 2020 World Cup, which due to the pandemic was held in 2021, a key event because surfing for the first time would be participating as an official sport in the Tokyo Olympic Games. More than 1,500 people came from 50 nations, with strict biosecurity measures, a big success. Thanks to this, we will continue to have other surfing World Cups, as in 2022, when we will host the Junior Surf World Cup. In addition, we are also hosting the world pre-qualifier in 2023, and we are negotiating to do other important events.
What are the other attractions of El Salvador for tourists?
One of the main attractions of El Salvador is the possibility of having several experiences within a few days. This is a great advantage for the tourist and, of course, for the investor because it is possible to have a diversity of investments in a small territory. Here you can do other water sports, for example, sailing. And they are not only beaches, but also lakes and lagoons special for sports. In addition, you can also practice sport fishing, a discipline for which we host important tournaments. We also have many protected natural areas that we are revitalizing, where you can go hiking, biking and different outdoor activities. We are the country with the most volcanoes that can be climbed in the region. In addition, we have archaeological sites, the Joya de Cerén, called the Pompeii of America, a World Heritage Site, the only archaeological site in all Latin America where you can see exactly how our ancestors of the Mayan civilization lived. And, above all, you can taste all our gastronomy, another of the bets that we are making, even with international cooperation. We are working to strengthen the human resource of our cooks, just as Mexico did with its gastronomy that became World Heritage Site. We know that a tourist is seduced through taste, and food is very important.
And the opportunities for investors?
The entire government is committed to promoting the tourism sector. We have clear rules and legal security for investors looking to settle in El Salvador. We have five major investment areas in our country, according to the law, which are food, accommodation, recreation, tourist transport and information (tour operators, travel agencies and tourist guides). But what do we need the most in the country? Of course, accommodation and food infrastructure. While it is true that we have more than 5,500 rooms nationwide, it is also true that they are focusing in two areas, the capital area and the La Libertad area where we have the best waves for surfing. So, there is a tourist offer for investors in the eastern, western and northern areas of the country, which we are developing with first-rate public infrastructure, to facilitate investment. We are about to launch a new investment legal framework to be more efficient, because investments need to realize in the shortest possible time, especially during the recovery period. For us it is very important to have clear rules, to facilitate and expedite the procedures because we know that investments generate more and better jobs. In the tourism sector, investments boost the economy of the communities.
What will this new legal framework consist of?
We currently have a legal framework facilitating procedures for investors in the tourism sector. We are reformulating this existing legal framework to make it even easier. The process that previously took three months will take a month or less. We know that your time is money and especially in this time of recovery. There are going to be five major items, which include restaurants, cafes, accommodation, hotels, hostels and recreation, and parks, both private and public. They also include tourist transport and information services that include travel agencies and tour operators. We are going to establish clear rules and expedite permits with the other areas involved, such as Environment and Culture, for example. Another thing that we are also going to do is encourage investments through loans and soft credits for 2022.
They are a reference in world literature with "The Little Prince"…
We have reopened the Cerro Verde Mountain hotel. This is a hotel in the middle of three volcanoes unique in the region. It served as inspiration for the book The Little Prince, by Antoine de Saint-Exupéry. It is said that the asteroid B 612 was El Salvador, and when he spoke about its volcanoes and its rose, he was referring to his wife, the Salvadoran Consuelo Suncín-Sandoval Zeceña, and he spoke of all the vegetation and all the diversity of fauna and flora that can be found in this area of western El Salvador. We are also a reference for literature. Cerro Verde is another tourist destination that we are going to promote and connect with the history of the colonial peoples. It is connected to the flower route, with colonial towns to taste local gastronomy, from the pupusa (typical dish) which even holds a copyright and other various dishes of the Salvadoran gastronomy. We will also develop other destinations, such as, in our capital, a connection between the Zona Rosa and the Historic Center.
What is your vision for the future of El Salvador, as regards tourism?
El Salvador has everything to be a first world tourist destination. We have short distances, good weather all year round, geographical conditions that no other country in the world has. How would I like to see the country in 10 years, within the plan that we have sustained until 2030, in terms of the tourism sector? As a good destination, with first-rate public infrastructure that benefits, of course, first the communities that are in the destinations, but also that tourists can get to know the natural wealth and our people. Let them think of El Salvador as it really is, and not another as it has been known in the past in the global environment: related to war, violence or other negative aspects. May we achieve this positioning and this association, but with a sincere gap between perception and reality. That when the visitor comes, they say: "It is true, El Salvador is a good destination to visit, invest and live."